Drawing techniques
The paintbrush
Used for applying Indian ink or gouache, brushes come in very handy for capturing details, faces and poses in linear form, as well as covering large areas when colouring in clothes or backgrounds.
Their flexibility enables the artist to work quickly, especially when applying washes with diluted inks or watercolours, paint diluted in water and applied in consecutive layers.
Image n°1 : Victim.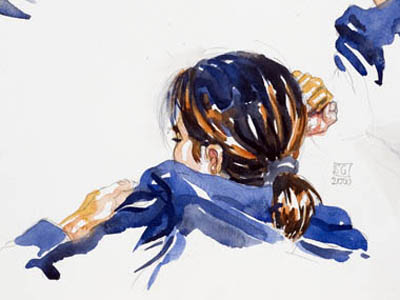 2000. Watercolour, 32x41,5cm.
© Sylvie Guillot
Listen to Sylvie Guillot, artist - 00:34 [MP3 - 0.4 Méga octets]