The Places
The courtroom
The courtroom in France is organized in a strongly hierarchical manner; each person has a specific place.
A 'bar' separates the public and the court itself, like the bar that marks the witness box.
The bench and the State Counsel are placed at equal height.
The whole courtroom is disposed symmetrically around the axis formed by the presiding judge/witness box/corridor separating the two rows of public audience. The prosecutor and the usher are on either side of this axis, as are the two parties. Only the accused is isolated, especially if he/she is in custody.
Image n°2 : Courtroom, Papon Trial, Law Courts in Bordeaux.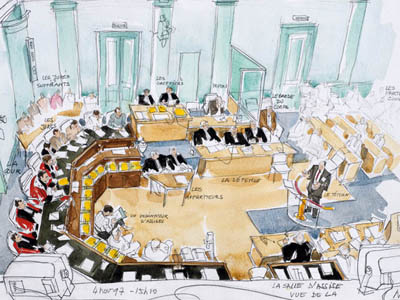 Noëlle Herrenschmidt. 1997. pencil and watercolour, 32x41 cm.
© Noëlle Herrenschmidt
Listen to Noëlle Herrenschmidt, artist - 01:08 [MP3 - 0.8 Méga octets]
Image n°3 : Special Court set up in the 'salle des pas perdus', Growth Hormone trial, Law Courts in Paris.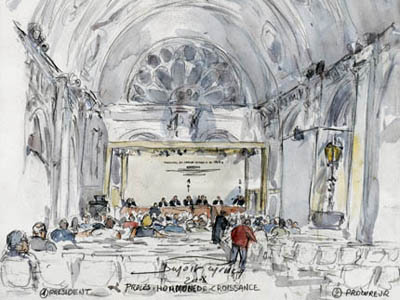 Benoit Peyrucq. 2008. pencil and watercolour, 41x32 cm.
© Benoit Peyrucq